When:
September 26, 2019 @ 7:30 pm – 11:00 pm
2019-09-26T19:30:00-04:00
2019-09-26T23:00:00-04:00
Where:
Madame X - Top Bar

The Art of Duality is an immersive variety show full of intrigue and delight featuring burlesque, spoken word, comedy and more!
About this Event
"There are two of you in you, let both coexist."
― Tapan Ghosh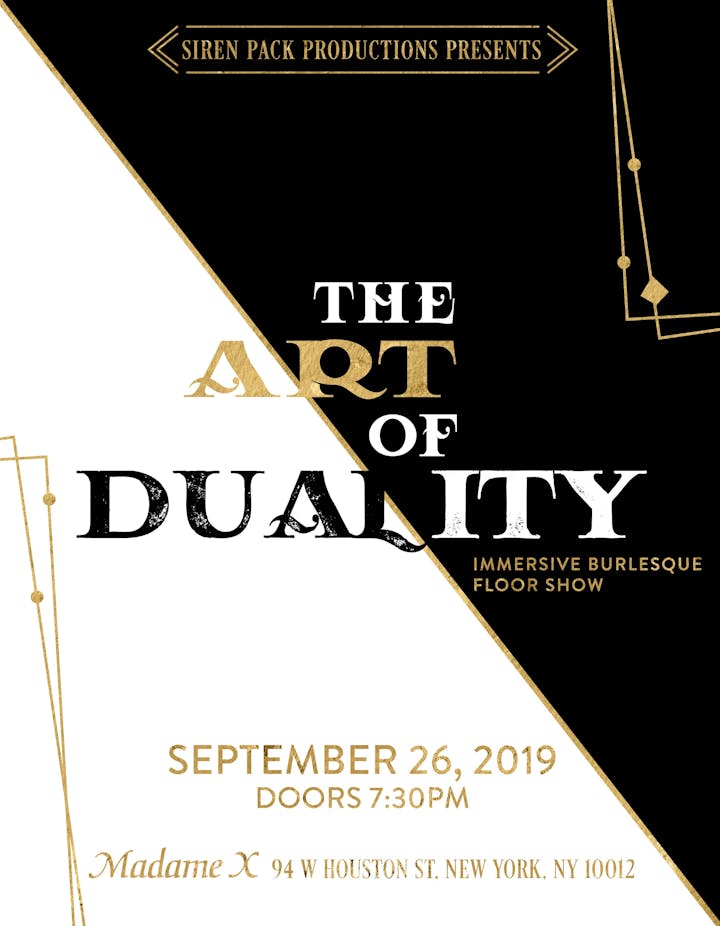 Doors at 7:30 for VIP & General Seating | 7:45 for Standing Room
We highly encourage tipping our performers and go go dancers. If you like what you see, let us know! Please bring cash. We can make change for you. We've got singles!
Each variety show in our bordello lounge contains some or all of the following elements:
PreShow Meet & Greet | Burlesque | Boylesque | Drag | Flow Arts | Pole Dance | Cabaret Singing | Comedy | GoGo | Raffles & Giveaways | Sultry Music | Signature Cocktails | VIP Gift Bags | Interactive Games | After Party DJ Dance Set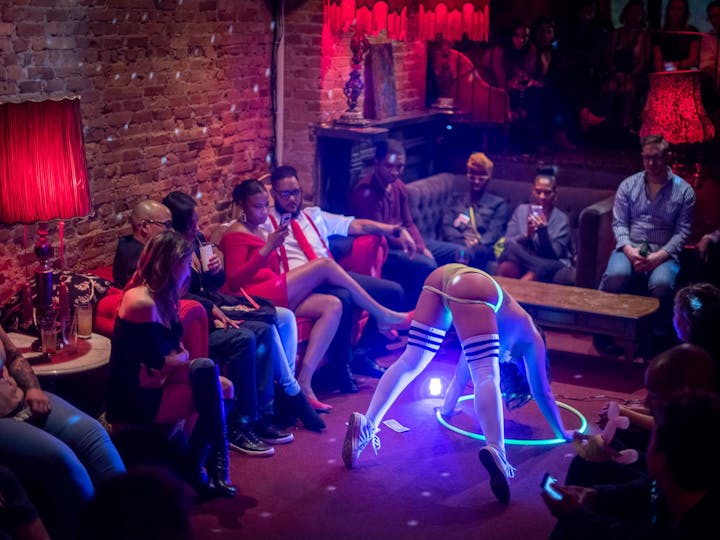 TICKET TYPES – Tickets cost more at the door and tickets are known to sell out. Purchase your tickets in advance. It's highly recommended.
$40 for VIP Seating: VIP ticket holders have some of the best seats in the house and receive a gift from one of our VIP Sponsors. VIP guests must arrive by 7:30 to claim their VIP reserved seats. After 7:45 you may be seated at the discretion of the House, which may include forfeiting your seat. If you arrive late, you may have to stand.
$30 for Advanced General Seating: General seating ticket holders must arrive by 7:30 to claim their reserved seats. After 7:45 you may be seated at the discretion of the House, which may include forfeiting your seat. If you arrive late, you may have to stand.
$15 for Advanced Standing Room: Standing room ticket holders may be standing or possibly seated, if any seats remain after 7:45pm. This depends on availability. Your view may be partially obstructed from standing.
$400 for "The Birthday Party" Experience: Celebrate your birthday by STARRING in a burlesque show. This is an EXCLUSIVE VIP Experience ticket for a party of up to 4 and only one experience is offered per Siren Pack show. Your ticket purchase includes:
The Best & Premiere Seating for up to 4 including the birthday person
A Birthday themed Burlesque Dance & Act by the Siren Pack Troupe with the Birthday Person as the Star of the Act
4 signature cocktail drinks
A VIP Birthday Gift from Siren Pack & our sponsors
Digital Copy of "The Birthday Party" Experience shot by our professional videographer and photographer
Birthday Party Favors for your entire group
(The theme can also be customized for other types of celebrations and are suitable for parties of 2 to 4! Email us at info@SirenPack.com to tell us more about the Experience that you would like to curate and immerse yourself in!)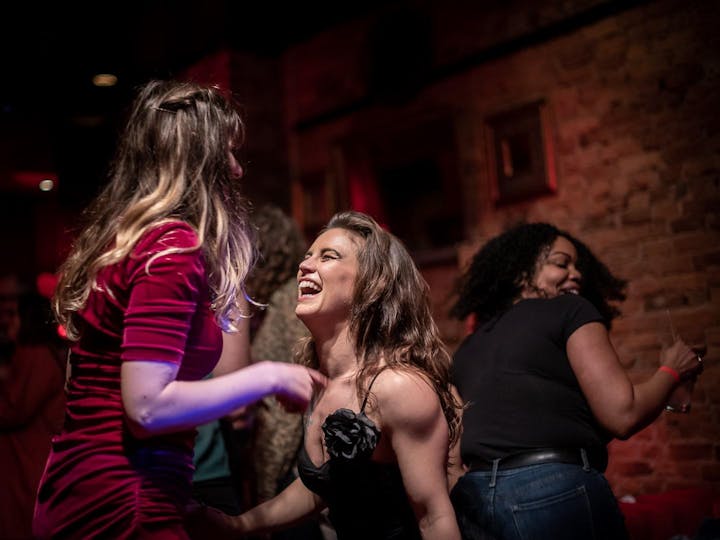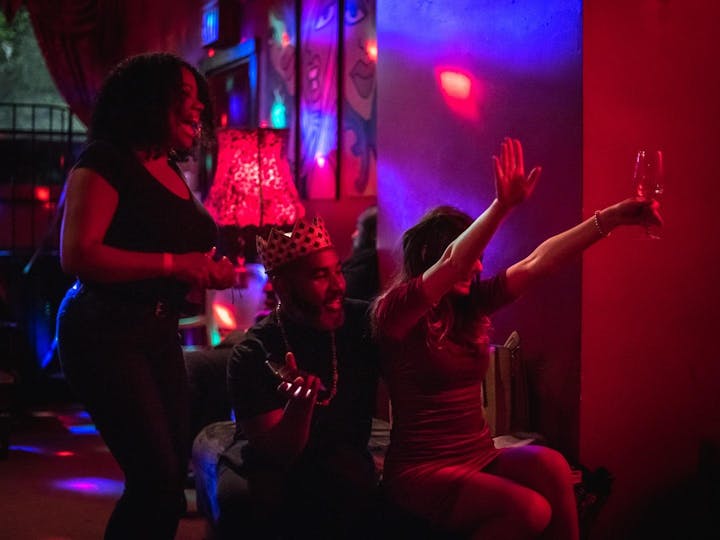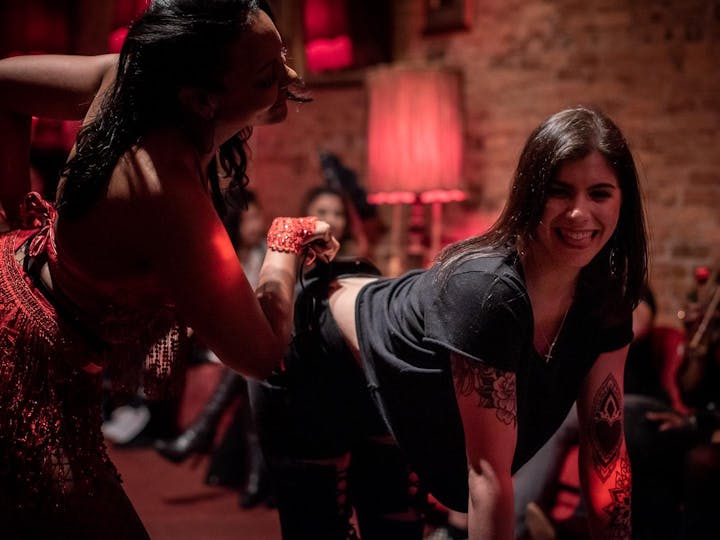 What are they saying?
"Seriously, the sexiest immersive burlesque in NYC" – Madame X
"It's more than magical. TRANSCENDENT." – Rashida Khanbey Miller
"The most wild burlesque show we've been to [in] a while." – idktonight.com
"These shows are awesome" – Michelle Hernandez, Audience Member
"I CAN NOT!!!" – Malcolm, Audience Member
"It was great fun!" – Adrienne Ryan, Audience Member
"Had the best date night at Madame X NYC. Sexy, lushes, beautiful and fun performance by Siren Pack. Loved the production." – Olesya, Audience Member
What is Immersive Burlesque? First, its entirely consent based!
There is no proscenium or traditional stage. Its a floor show performed in the round with no fourth wall.
During our Pre-Show Meet & Greet, Intermission and After Party, our cast is out and about getting to know you, chatting, taking pictures, dancing, and playing games. The "show" starts from the moment you walk through our doors. Intermission is LIT! In July, we broke out in the Wobble.
Our show also incorporates intentional audience experiences and participation from enthusiastic volunteers.
Our show is all about connection, entertainment, delight, subversion and fun! Take a look at our show photos.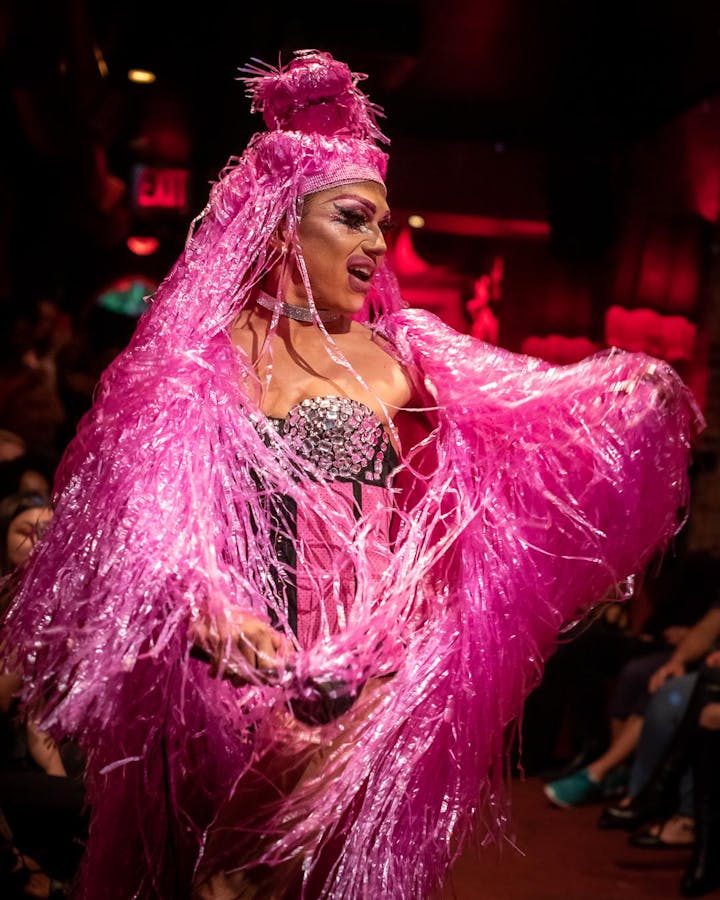 About Madame X
Madame X is a seductive and spicy red bordello lounge located in the historic Greenwich Village.
SEATING at Madame X
All VIP guests and General Seating guests are escorted to their seats by a Siren Pack usher. Please note that latecomers will be seated at the discretion of Siren Pack Productions.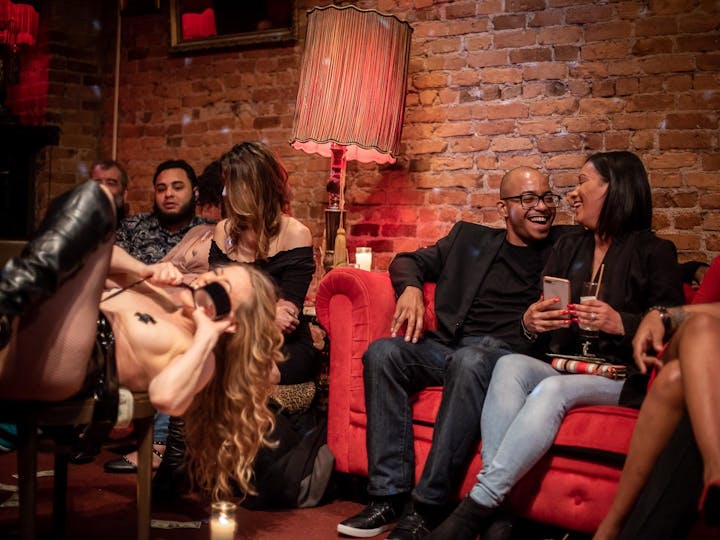 SPONSORED RAFFLE & GIVEAWAY PRIZES – Bring Cash! We're so grateful for the amazing brands that support our show, our performers and our audience.