When:
July 25, 2019 @ 7:30 pm – 11:00 pm
2019-07-25T19:30:00-04:00
2019-07-25T23:00:00-04:00
Where:
Madame X - Top Bar

Once Upon A Time is an immersive burlesque show with a naughty twist featuring an enchanting cast of magical creatures and characters.
About this Event
"I used to be Snow White, but I drifted." ― Mae West
Are you ready for a different kind of night out? Something a bit more interactive and subversive? Join us for "Once Upon a Time", an immersive burlesque floor show featuring a troupe of magical and powerful performers representing your favorite fairy tales and fables.
Prepare for haunting and thrilling performances from the likes of Little Red Riding Hood, Gaston, Snow White, Mulan, Tinkerbell, The Queen of Hearts, Maleficent and the Big Bad Wolf. (More to come!)
Make your night even more extraordinary by dressing the part. You're invited to dress up as your fairy tale character. Prizes will be given to the best dressed and crowd favorite!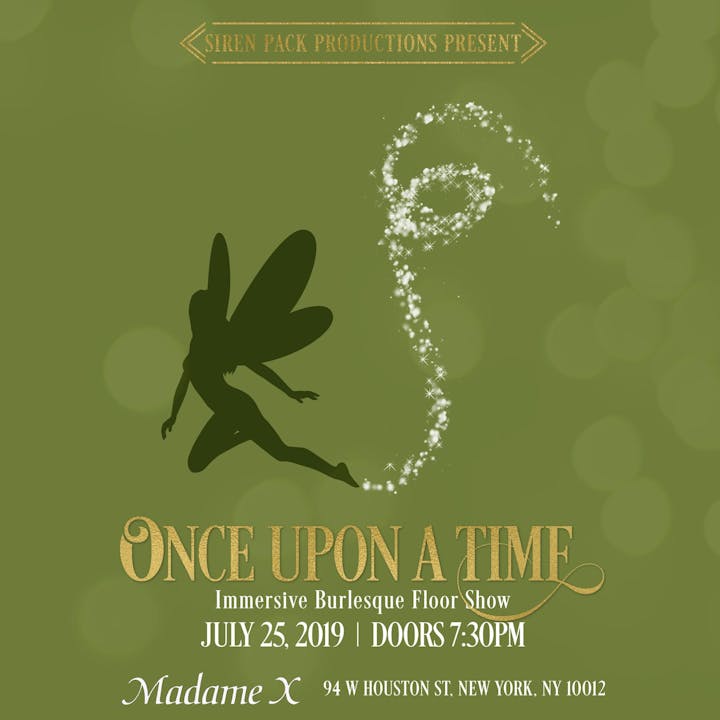 Doors at 7:30 for VIP & General Seating | 7:45 for Standing Room
We highly encourage tipping our performers and go go dancers. If you like what you see, let us know! Please bring cash. We can make change for you. We've got singles!
Each variety show contains some or all of the following elements:
PreShow Meet&Greet | Burlesque | Boylesque | Drag | Flow Arts | Pole Dance | Cabaret Singing | GoGo | Raffles | Sultry Music | Signature Cocktails | VIP Gift Bags | Interactive Games | After Party DJ Dance Set | Bordello Lounge
Cast includes: Margo Price, Shay Au Lait, Queerly Femmetastic, Katherine Neoma, Uncle Freak, Delta Major, Caliente Creatrix and Marlena Magdalene. More performers to be announced soon!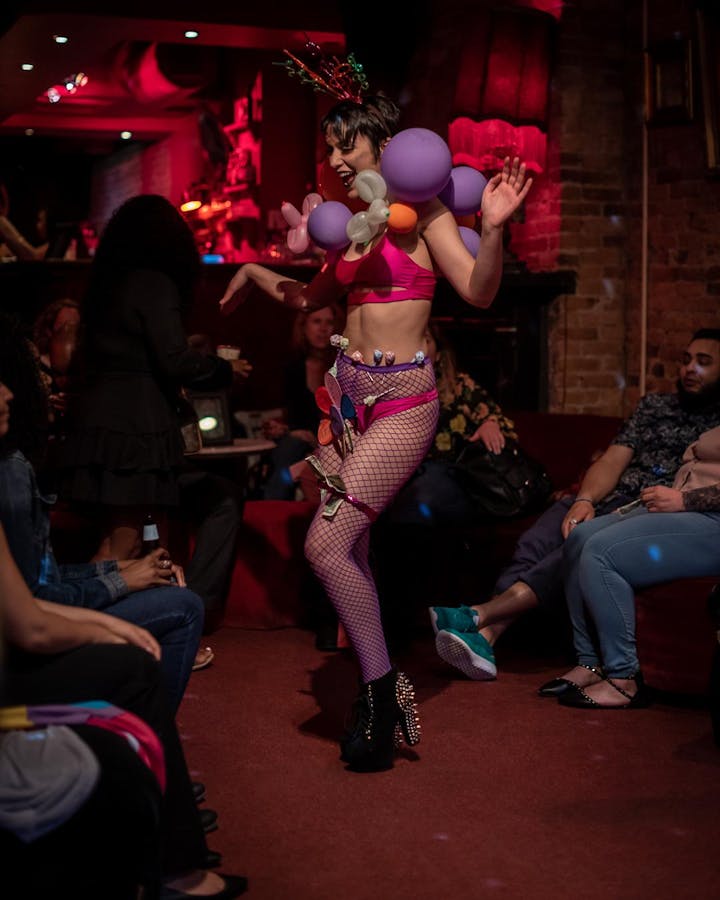 TICKET TYPES
$40 for VIP Seating Admission: VIP seating has the best seats in the house and you receive a gift from one of our VIP Sponsors (Iman Cosmetics and Scotch Porter). VIP must arrive by 7:30 to claim your VIP reserved seats. After 7:45 your seat may be forfeited, you may have to stand and you will not be refunded.
$30 for Advanced General Seating Admission: General admission seating must arrive by 7:30 to claim your reserved seats. After 7:45 your seat may be forfeited, you may have to stand and you will not be refunded.
$15 for Advanced Standing Room Admission: This is a standing room ticket. You may be seated or standing depending on availability and your view may be partially obstructed from standing.
$400 for "The Birthday Party" Experience: This is an EXCLUSIVE VIP Experience ticket for a party of up to 4 and only one experience is offered per Siren Pack show. Your ticket purchase also includes:
The Best & Premiere Seating for up to 4 including the birthday person
A Birthday Themed Burlesque Dance & Act by the Siren Pack Troupe with the Birthday Person as the Star of the Act
4 signature cocktail drinks
A VIP Birthday Gift from Siren Pack & our sponsors
Digital Copy of "The Birthday Party" Experience shot by our professional videographer and photographer
Birthday Party Favors for your entire group
(The theme can also be customized for other types of celebrations! Email us at info@SirenPack.com to tell us more!)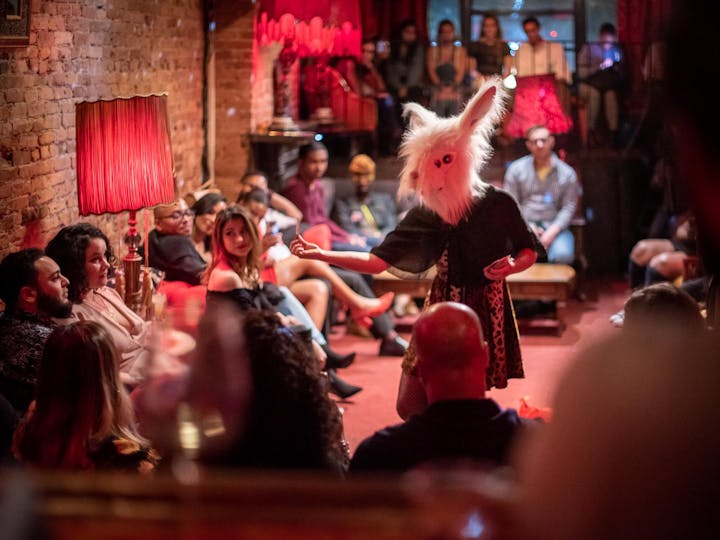 What are they saying?
"Seriously, the sexiest immersive burlesque in NYC" – Madame X
"It's more than magical. TRANSCENDENT." – Rashida Khanbey Miller
"The most wild burlesque show we've been to [in] a while." – idktonight.com
"These shows are awesome" – Michelle Hernandez, Audience Member
"I CAN NOT!!!" – Malcolm, Audience Member
"It was great fun!" – Adrienne Ryan, Audience Member
What is Immersive Burlesque? First, its entirely consent based!
There is no proscenium or traditional stage. Its a floor show performed in the round with no fourth wall. We direct our attention as we seek to entertain and delight you. (At the least, looking you in the eye. At the most, sometimes interacting with you (depending on consent and the act).
We surround you, playing with proximity as seating is parlor styled on couches, chairs and stools.
During our "Pre-Show Soiree", Intermission and After Party our cast is out and about getting to know you, chatting, taking pictures, dancing, and playing games. The "show" starts from the moment you walk through our doors. Intermission is LIT!
Our show also incorporates intentional audience experiences and participation from enthusiastic volunteers.
Our show is all about connection, entertainment, delight, subversion and fun! Take a look at our show photos to see both our performers and audience!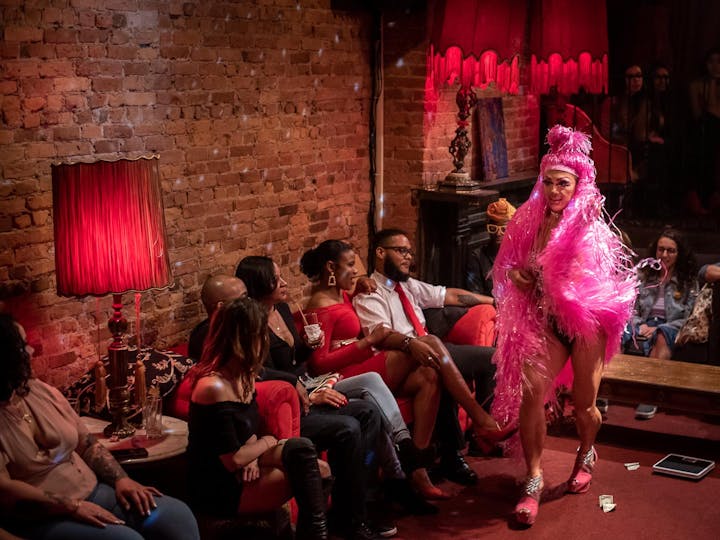 About Madame X aka The Magical Forest
Taking place in a magical lair fit for every possible character and creature, Madame X is a seductive and spicy red bordello lounge located in the historic Greenwich Village.
SEATING at Madame X
All VIP guests and General Seating guests are escorted to their seats by a Siren Pack usher. Please note that latecomers will be seated at the discretion of Siren Pack Productions.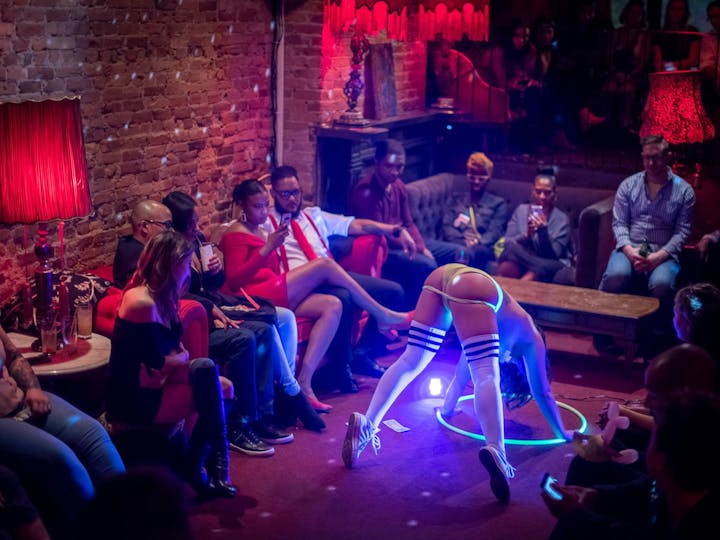 SPONSORED RAFFLE PRIZES – Bring Cash! – we're so grateful for the amazing brands that support our show, our performers and our audience. Raffles are $5 for 5 tickets or $20 for a sleeve of tickets.
The Fit Factory – One raffle winner will be gifted with a 3 Pole Dance Fitness Class Package for their studio in West Babylon, NY which offers Pole Dance, Aerial Hoop, Hip hop, AcroYoga, Burlesque, and Flex & Barre classes, as well as private parties. (valued at $75 total) Follow them at @thefitfactoryli
Marcel Style – One raffle winner will be gifted with a Jade Cranberry sheer bodysuit. Marcel Style designs clothing for freedom, movement and expression. (valued at $68). Follow them at https://www.marcelstyle.com/
Radiant Ecstasy by Lauren Harkness – One raffle winner will receive a Lavender Rose bath salt. These bath salts will permit you to indulge your sensual body with essential oils, crystals and scents of lavender and rose petal. It's magic in the bath! . (valued at $35) Follow her at @sensualalchemistress
Intuitive Crystal Reiki Session by Caliente Creatrix – One raffle winner will receive a 90 minute Intuitive Crystal Reiki session which includes chakra work and meditation (valued at $150) Follow her at @calientecreatrix
SpeakEasy Noir – One raffle winner will receive a travel size Savage Bliss and Primal Bliss erotic massage oil candle. A little goes a long way with these organic and orgasmic, hand pour candles created by Shay Au Lait. (valued at $20) Follow them at @SpeakEasyNoir
VIP Gift Bag Sponsors
IMAN Cosmetics – IMAN ST TROPEZ MAKEUP COLLECTION. Featured at the 2019 ESSENCE Beauty Carnival, this all-in-one makeup collection by IMAN is an exotic mix of shimmering nudes and opulent metallics for the eyes, lips and cheeks. Follow them at @imancosmetics
Scotch Porter – Providing healthier, good-for-you and your body grooming products, that include Fresh Meat Wipes, Charcoal & Licorice Restoring Face Wash, Beard Balm, and Body Scrub. Follow them at @scotchporter