When:
June 13, 2019 @ 7:30 pm – 11:00 pm
2019-06-13T19:30:00-04:00
2019-06-13T23:00:00-04:00
Where:
Madame X - Top Bar

House of M is an immersive, intergalactic burlesque floor show featuring a powerful cast of superheroes and supervillains.
About this Event
What happens when you put superheroes and super-villains in the same bordello lounge during their night off? We're not entirely sure, but we know it must be action packed and intense!
Are you ready for a different kind of night out? Something a bit more immersive and subversive? Join us for "HOUSE OF M", an immersive and intergalactic burlesque floor show featuring a collective of powerful and ferocious heroes and villains sharing their most magnificent and gutsy talents. Due to the nature of their superpowers, we've declared HOUSE OF M as a neutral zone with intergalactic protection for all.
Prepare for EPIC performances from the likes of Catwoman, Harley Quinn, Poison Ivy, Lucifer, MaDdusa, Fluorite Knight, Flamè, Cat Twink, Hypnotia and ViXen.
Make your night even BOLDER, by dressing the part. You're invited to fully immerse yourself by dressing up as your favorite hero or villain. Prizes will be given to the best dressed and crowd favorite!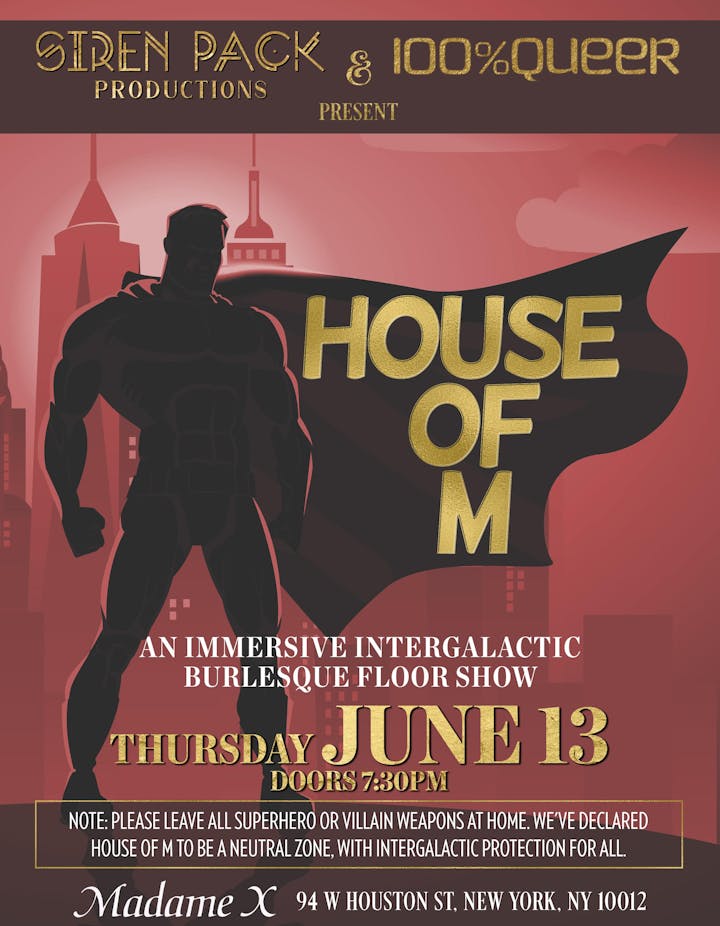 Doors at 7:30 for VIP & General Seating | 7:45 for Standing Room
(All VIP guests and General Seating guests are escorted to their seats by a Siren Pack usher. Please note that latecomers will be seated at the discretion of Siren Pack Productions.)
We highly encourage tipping our performers and go go dancers. If you like what you see, let us know! Please bring cash. We sell singles! Besides you just might activate someone's superpower!
PreShow Meet&Greet | Burlesque | GoGo | Raffles | Sultry Music | Signature Cocktails | After Party DJ Dance Set | Bordello Lounge
Siren Pack Productions has partnered with 100% Queer Pole and Sensual Art Squad to produce a bold and epic show in honor of PRIDE MONTH. Rather than having a "Pride" themed show, we've hired artists and performers who publicly self-identify as Queer.
CAST: This show features a rotating lineup of Siren Pack members and surprise guests including Alex the Pole Twink, Frankie Mxsgendered, Margo Price, Dey Phoenix, Caliente Creatrix, Saligia, Delta Major, ILOV GRATE, Taffeta Punk, Malena Magdalene, Lucy Risque and Shay Au Lait.
Host: Sam Popp as the Joker
DJ: DJ Deaftone as Superman
Executive Producer/Stage Manager: Viviana Salgado as Black Widow
Box Office & House Manager: Emily Dunlop as Lady Raven
Photographer: Citizen Rob the PreCog
Videographer: Tehsaun Glober as Superman
What is Immersive Burlesque? First, its entirely consent based!
There is no proscenium or traditional stage. Its a floor show performed in the round with no fourth wall. We look you in the eye as we seek to entertain and delight you.
We surround you, move through the audience engaging with proximity, and we direct attention and sometimes interact with you (depending on consent and the act)
Seating is parlor styled on couches, chairs and stools.
During our "Pre-Show Soiree", Intermission and After Party our cast is out and about getting to know you, chatting, taking pictures, dancing, and playing games. The "show" starts from the moment you walk through our doors.
Our show also incorporates intentional audience experiences and participation from volunteers and eager audience members that put you right in the action of the show.
Our show is all about connection, entertainment, delight, subversion and fun! Take a look at our show photos to see both our performers and audience!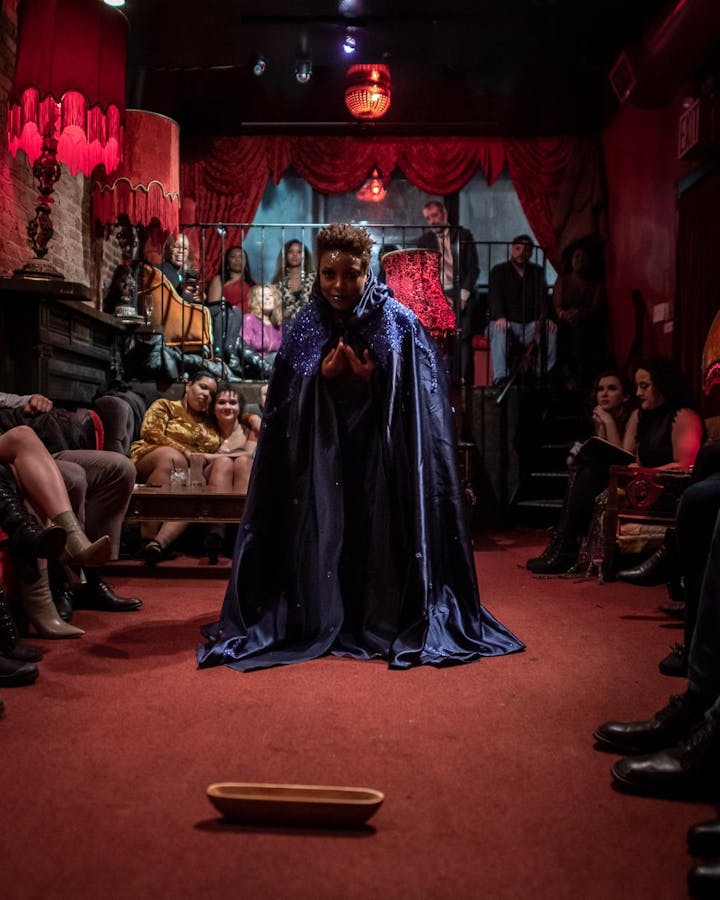 TICKET TYPES
$40 for VIP Seating Admission: VIP seating has the best seats in the house. VIP must arrive by 7:30 to claim your VIP reserved seats. After 7:45 your seat may be forfeited and you will not be refunded.
$30 for Advanced General Seating Admission: General admission seating must arrive by 7:30 to claim your reserved seats. After 7:45 your seat may be forfeited and you will not be refunded.
$15 for Advanced Standing Room Admission: This is a standing room ticket. You may be seated or standing depending on availability.
PLEASE NOTE:
$20 for At the Door Standing Room Admission: This is a standing room ticket. You may be seated or standing depending on availability.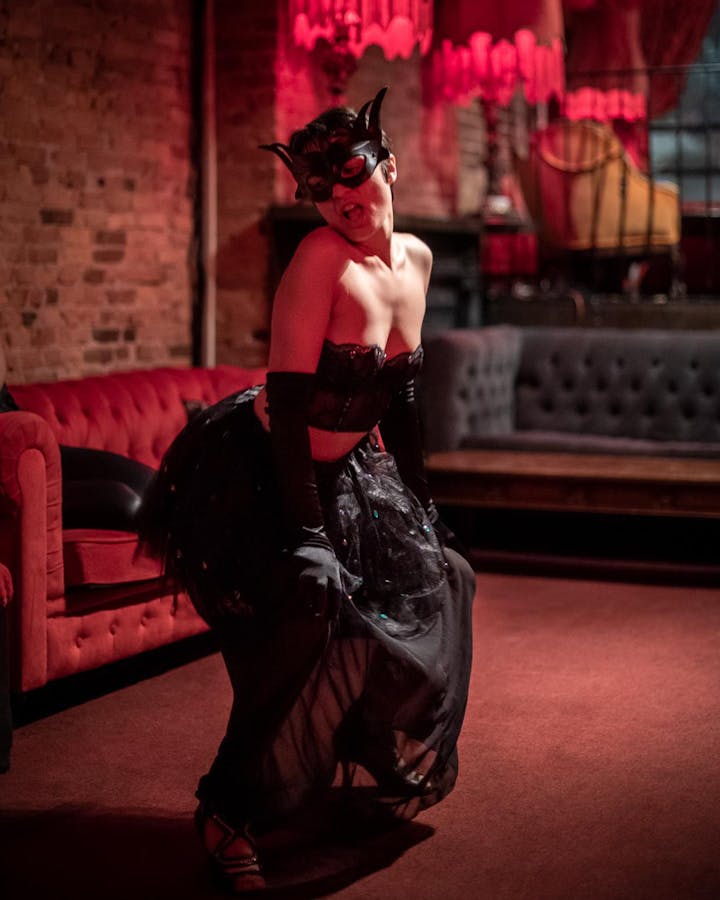 As with every show, we always have a line up of great sponsors for our Raffles, Giveaways and VIP Gift Bags. Featured companies include:
IMAN Cosmetics – Makeup for People of Color – Each VIP guest will receive the St. Tropaz Makeup Collection. Featured in at the 2019 ESSENCE Beauty Carnival, this all-in-one makeup collection by IMAN has an exotic mix of shimmering nudes and opulent metallics for the eyes, lips and cheeks valued at $20 each.
Scotch Porter – Grooming Products – Each VIP guest will receive their Fresh Meat Wipes, Charcoal & Licorice Restoring Face Wash, Beard Balm, and Body Scrub valued at $50 each. We will also raffle off a $140 gift bag of products that include the Fresh Meat Wipes, Body Wash, Body Scrub, Body Bar and Body Lotion.
Goddess on the Go – A pitstop for pleasure, purpose and profound sisterhood in a fast-paced world. We will raffle off Leora Edut's latest book, "Goddess on the Go: Rituals to Help You Slow Down and Slay" valued at $20 each.
The Fit Factory – A Pole, Aerial and Dance Fitness Studio. We will raffle off a 3 class Pole Dance Fitness package valued at $75.
SpeakEasy Noir Burlesque – Mysterious Order of Society for the Wicked and Willful exploring power, pleasure and play. Each VIP guest will receive a Savage Bliss or Primal Bliss erotic and aromatic massage oil candle valued at $10 each. We will also raffle off a mini-lifestyle photo-shoot valued at $250. SpeakEasy Noir will also be vending their massage oil candles during our show too!
Delta Major Designs – Empowering fashion for all bodies and all genders. We will raffle off a gorgeous Wonder Woman circle skirt valued at $30! Delta Major Designs will also be vending their products at our show!
Marcel Style – Clothing for Freedom, Movement, and Expression. We will raffle off the jade cranberry sheer body suit. valued at $68.
About Madame X aka House of M
Taking place in a lair fit for heroes, villains and their friends, Madame X is a spicy red bordello lounge that's cozy, seductive and tucked away located in the historic Greenwich Village. Our intimate parlor style seating puts you right in the middle of the action, as we perform in the round, doing away with the traditional fourth wall.
About 100% Queer
100%QUEER is NYC's completely queer all genders pole & sensual arts squad. They curate their own events, add flavor to yours, and collaborate with other pole, aerial, go-go, and sensual arts communities. Every squad member publicly self-identifies as queer.